Pullex Renovier-Grund
Basis Y
/

2.5 l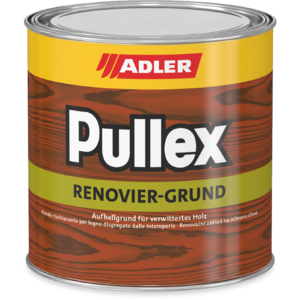 Article number:5025502
Application method:
Attention: use wood preservatives safely. Always read the label and product information before use.
​Opaque, pigmented wood preservative impregnation for renovating highly weathered wood coatings used outdoors. In addition to impregnation, Pullex Renovier-Grund also brings
about equalisation and brightening of the wooden substrate. The 
product is low-odour as a result of white spirits free of aromatic 
hydrocarbons.
Basis of the system
Advantages of the product
The active substances used provide protection required against blueing (Test conforming to EN 152-1), fungus that destroys wood (Test conforming to EN 113) and have a preventive effect against insect infestation (Test conforming to EN 46), as specified by ÖNORM B 3802 or DIN 68800-3. Application quantity for testing in conformity with the standards is approx. 200 gm./m² (Approval certificate no. 6/93). 
Substances (B, P and Iv)0.7 % Dichlofluanid,0.6 % Tebuconazol,0.05 % Permethrin
Special features
Wood protection
Ready for use
UV resistance
For non-dimensionally stable timber components
Protection against fungal decay
Protection against mold
Hazard warnings
Attention!

EUH066

Repeated exposure may cause skin dryness or cracking.

EUH208

Contains (name of sensitising substance). May produce an allergic reaction.

H226

Flammable liquid and vapour

H412

Harmful to aquatic life with long lasting effects

P102

Keep out of reach of children.

P210

Keep away from heat, hot surfaces, sparks, open flames and other ignition sources. No smoking.

P233

Keep container tightly closed.

P240

Ground and bond container and receiving equipment.

P241

Use explosion-proof [electrical/ventilating/lighting/…] equipment.

P242

Use non-sparking tools.

P243

Take action to prevent static discharges.

P273

Avoid release to the environment.

P280

Wear protective gloves/protective clothing/eye protection/face protection.

P501

Dispose of contents/container to ...
Area of application
​Refurbishment of glaze-finish and opaque wood coatings used outdoors such as, for example, wooden houses, canopies, timbering, balconies, windows, front doors, window shutters and gates in usage categories 2 and 3.