Lignovit IG
Farblos
/

4 l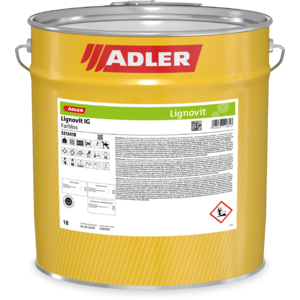 Article number:5313404
Application method:
Attention: use wood preservatives safely. Always read the label and product information before use.
Water-based wood protection impregnation with a uniform absorption effect especially on softwood.
Basis of the system
Advantages of the product
The active substances used provide the protection required against blueing (Test conforming to EN 152-1), wood-destroying fungus (Test conforming to EN 113) and insect attack (Test conforming to EN 46), as specified by ÖNORM B 3803 or DIN 68800-3. Coating quantity for testing in conformity with the standards is approx. 200 g/m² (Approval certificate no. 2/05).
Active substances: (B, P, Iv) 1.2 % IPBC (iodpropinylbutylcarbamate) 0.05 % permethrin
French ordinance DEVL1104875A regarding the marking of construction coating products for their emissions of volatile pollutants: A+
Special features
Wood protection
UV resistance
For non-dimensionally stable timber components
good weather resistance
Dilutable in water: yes

Protection against fungal decay
Insect infestation
Hazard warnings
Attention!

EUH208

Contains (name of sensitising substance). May produce an allergic reaction.

H410

Very toxic to aquatic life with long lasting effects

P273

Avoid release to the environment.

P501

Dispose of contents/container to ...
Area of application
Wood components that are not dimensionally stable or limited dimensionally stable in outdoor areas made of softwood, in usage classes 2 and 3.
| Description | Size | Type of file | |
| --- | --- | --- | --- |