Matt, more matt and ultramatt: Lignovit innovation from ADLER
As matt as possible: this is how the colourfully designed wooden façade of today presents itself. The appropriate coating from ADLER shines only with its inner values: best durability, easy application and an extraordinary mineral appearance make Lignovit Ultramatt the product of choice for creative architects and demanding house builders. This revolutionary new development from Austria's leading paint manufacturer gives all wooden structural elements a unique, strong character in numerous colour shades.
22 May 2018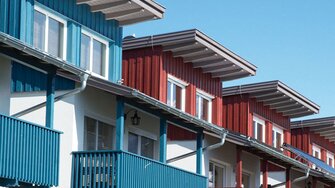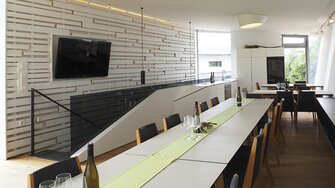 INORGANIC AND ORGANIC
For Lignovit Ultramatt, ADLER researchers have dug deep into their little chemistry set: "We have combined the elasticity of organic binding agents with the hardness of inorganic binding agents," explains Dr. Markus Fessler from the architectural coatings development department. The result is a particularly resistant opaque coating for outdoors and indoors. Indoors? Yes, because Lignovit Ultramatt does not contain any wood preservatives and is therefore an ideal water-based product for interior design. "Unlike similar products, priming with a solvent product is not necessary," stresses Fessler. This makes Lignovit Ultramatt particularly efficient in its application. Whether spraying or painting – perfect, simple processing is guaranteed. And cracks? There aren't any!
MINERAL APPEARANCE
The innovative coating gives façades, garden houses or balconies a mineral character, since the dull matt appearance of the surface resembles that of a calcareous wall paint. A look that is fully in line with current trends. In strong red, noble grey tones or bold green – wooden parts coated with the new ADLER product make an impressive appearance. Lignovit Ultramatt is simply the Non-Plus – or as we prefer to say: the Matt-Plus-Ultra!