Bluefin Smart: Uniquely beautiful and uniquely fast
Time is money: This also applies in the workshops of joiners and carpenters. Working efficiently without sacrificing quality is the recipe for success. A furniture varnish that only needs to be applied once and yet creates a perfect surface – wouldn't that be a dream? Coat, sand, finished – this is possible with the new Bluefin Smart from ADLER!
20 Apr 2018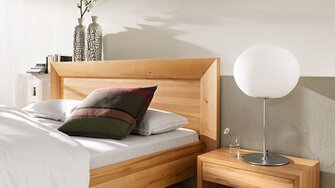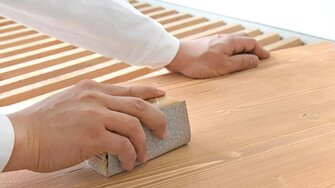 EFFICIENCY MIRACLE
The secret to the success of the efficiency miracle of Austria's leading paint manufacturer is its outstanding glossiness: "After applying the varnish, the wood surface must always be sanded to smooth the straightened fibres. In the case of conventional paints, mechanical stress, e.g. scratching strain, always results in glossy areas on a sanded surface," explains ADLER's laboratory manager Franz Thummer, whose team developed the 2-component water-based paint. Bluefin Smart does not gloss up at all – a second coat of paint is therefore superfluous. After spraying the carefully pre-sanded wood, the surface dries overnight, is sanded with a grain size of 360-400 and smoothed with the sanding fleece – the perfect surface is finished. Despite this efficient one-time application, the paint has a high resistance to chemical and mechanical strain: "Bluefin Smart achieves significantly higher levels of durability than oils and waxes and can therefore be used for sophisticated furniture surfaces and interior fittings," emphasises Thummer.
NATURAL BEAUTY
Bluefin Smart is not only unique in its application – it also looks really good. Whether nut or oak, maple or exotic woods, the varnish preserves the natural beauty of the wood, giving it a velvety soft-touch surface and an elegant dull matt sheen. "Compared to other furniture varnishes, Bluefin Smart achieves a significantly more matt, natural surface appearance – almost as if the wood was not coated at all," explains Thummer. Practical and durable, and on top of that a real natural beauty: this is the unique Bluefin Smart, the efficient furniture varnish of the future!